Storage Facility
Suitable Storage tanks / godown are essential for uninterrupted supply of petroleum products. Petroleum Exchange of India being a spot platform with compulsory deliveries of product, various storage tanks/godown are being accredited to ensure quick fulfillment of trades executed on the exchange.
Sellers namely Oil companies, Importers and Industries producing Petroleum / Petrochemical and Chemicals need to accredit their storage tanks from where they propose to make the delivery of the sold product.
PetEx approved storage tanks and godown are proposed to be located at strategic locations like Ports, Refinery locations, Tap Off Points (TOPs), High consumption industrial area and District Head Quarters.
PetEx conducts due diligence in terms of commissioning only those storage tanks/godown who have the required explosive, storage, solvent and other local body / statutory licenses.
With a vast network of such storage locations spread across the country buyers are able to ensure a quick turnaround time in their production and deliveries.
Are you a tank farm owner – located at Port or Inland locations ?
This is a big-time business opportunity to accredit / certify your tankage with PetEx. Since the delivery to the buyers can be made only from accredited tankage, the sellers will prefer to hire your tankage so as to offer their products in the exchange.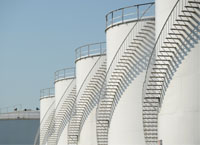 Are you an industry with surplus tankage / storage facility ?
As a industry if you have surplus tankage capacity of A, B and C class of products, (like LPG, Benzene, Toluene, MTO, FO, LDO, Bitumen etc.) then you can use this surplus / idle capacity / asset to add revenue to the bottom line of your balance sheet.
Many small manufacturing units need cheap and quality petroleum products from PetEx, but are not able to buy products due to the minimum load of tanker size (10 tons). If the tankage is found suitable and you are ready to meet the accreditation norms of quality and service, it is the right to contact us.
Do you have finance to invest (set up) tanking / godown facility for PetEx ?
India currently consumes approx. 250 million tons of petroleum products per annum. The growth of this sector is approx. 2% – 3% per annum i.e. 5 -6 million metric tons. Looking at the proposals for new grassroots refinery, there is no possibility of getting any new refinery in next 4-5 years, in India. Hence, the shortfall in the supply demand of petroleum products will be made good through import at different established and new ports.
Hence, there is fairly good opportunity to invest in warehousing of petroleum, petrochemicals and chemicals.
We shall be able to provide you professional help in developing and operating these facilities.
If you are looking for a new business opportunity in Petroleum, petrochemical and chemical products, this is the time to contact us.
PetEx is actively looking for organizations interested in investment, construction or operation of storage tanks. If  your organization would be interested in collaborating on such fronts please call +91 22-2854 8100.
For any clarification please write or call :
Petroleum Exchange of India (P) Ltd.
director@petexindia.com +91 9320012513
nilesh@petexindia.com +91 9920494214
varun@petexindia.com +91 9004365926